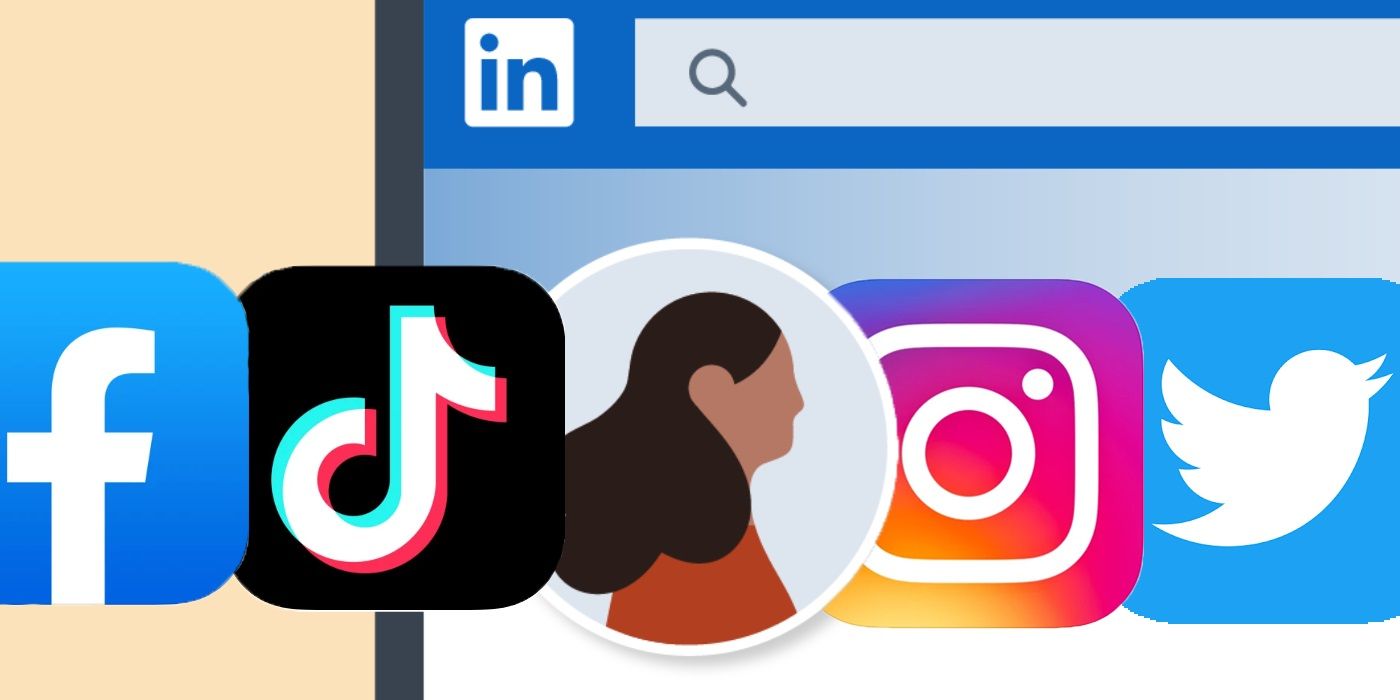 TikTok, Twitter, Facebook and more
TikTok, Twitter, Facebook and Instagram are all popular social media services and each has their own image size recommendations and guidelines. Whether it's a profile, banner, or post image, understanding which size is best to use can go a long way to ensuring the image is displayed in the best possible light. For most people, this will only be a matter of double-checking the correct size(s) for a service. For those looking to make an impact across multiple platforms, however, things can get a bit more confusing.
The social media landscape has changed significantly over the years. With the arrival of services like TikTok, the focus is now much more on using and sharing videos. Specifically, short videos. At the same time, some things have remained exactly the same. For example, Twitter is still the go-to place to post short messages, and Facebook remains a popular way to stay in touch with friends and family.
Related: Four ways an iPhone can take a hands-free photo
With so many different social media services currently in use, it's pretty easy for anyone to find the right network for their individual needs. While each service has its own advantages and limitations, they also tend to have their own requirements and profile pictures/photos are no exception. Due to the ability to access these services on multiple devices with different screen sizes and through multiple browsers, it may be important to understand the different soft and hard limits for images. As an example of the current difference, TikTok users can actually use a profile video instead of the more typical profile picture.
Image sizes recommended by TikTok
TikTok may be one of the newer social media services, but it's already one of the most popular. In 2021 alone, the service racked up more downloads than any other service, even beating Facebook and Instagram. With so many new users continually signing up for the service, it can be important to put your best foot forward with profile pictures. Generally speaking, TikTok is quite accommodating when it comes to images and recommends the following sizes:
Profile images: 20 x 20 (minimum)
Video: 1080 x 1920 (recommended)
Unlike some other services, TikTok actually allows users to upload a profile video instead of a profile photo. When a profile video is set, all previously used profile pictures will no longer be visible on the profile. Essentially users have to make a choice between using a profile photo or video and this can be done by tapping Profile in the application, followed by 'Edit profile', then pressing one of the 'Change picture' or 'Change video.'
Image sizes recommended by Twitter
Twitter is a popular option for those who want to stay in the know. Uploading an image is quite simple and can be done via the main Twitter website or using the Android and iOS apps. Twitter allows the uploading of profile and header (banner) images, in addition to the use of images and videos in posts.
Profile pictures: 400 x 400
Banner images: 1500 x 500
Post image/photo: 8192 x 8192 (maximum)
GIF: 2048 x 2048 (maximum)
Video (landscape): 1280 x 720 (recommended)
Video (square): 720 x 720 (recommended)
Profile pictures uploaded to Twitter can be in JPEG, GIF or PNG format and 2MB is the maximum file size allowed. When uploading a header image, it may appear cropped on some devices or when viewed in some browsers. According to Twitter, up to 60 pixels top and bottom may be affected. With general images posted on the microblogging platform, Twitter does not actually list a minimum image size or resolution, but a maximum resolution of 8192 x 8192. Supported formats include JPG and PNG with a maximum file size of 20MB. Twitter also allows GIFs to be uploaded, as long as they are under 15MB and have a maximum resolution of 2048 x 2048.
Facebook Recommended Image Sizes
Facebook may be an older service than some, but it's still an incredibly popular platform that many turn to to keep up to date with friends, family, and even the latest news. and current events. However, it also has its own image guidelines and recommends the following minimum sizes:
Profile Pictures: 320 x 320
Cover image: 720 pixels wide
Stream images: 1080 x 1350 (recommended)
Facebook Stories: 1080 x 1920 (recommended)
Cover images are basically the same as a header or banner image. In other words, the large image that displays horizontally at the top of a profile page. Unlike some other social media services, Facebook doesn't seem to recommend a minimum size for the height of a cover photo, with the main recommendation simply being a minimum width of 720 pixels. However, this may mean that some images display differently on different devices. So users may want to check how it looks before choosing an image size. With feed images, Facebook recommends 1080 x 1350 although the minimum width on mobile is actually 320 pixels.
Instagram Recommended Image Sizes
Instagram continues to be a popular destination for sharing photos and videos with friends, family, and followers. Considering it's a service that puts a lot of emphasis on images in general, it's pretty forgiving when it comes to sizes. Regarding profile pictures, if the user has chosen to import their photos from Facebook, the Facebook profile picture will automatically be used as the Instagram profile picture. Of course, users can manually take a new photo or upload one to use instead.
Profile images: 320 x 320 (recommended minimum)
Post Images: 1080 x 566 (recommended minimum)
Instagram Stories: 1080 x 1920 (recommended)
Although 1080 pixels is the recommended width, Instagram allows images and photos to be uploaded well below. According to instagram, if you upload an image with a resolution lower than 320 pixels, the image will be enlarged to 320 pixels, which may affect the resolution. If the download is between 320 and 1080 pixels wide and the aspect ratio is between 1.91:1 and 4:5, the original resolution will be retained. If you upload an image with a resolution higher than 1080 pixels, it will be scaled down to 1080p.
LinkedIn Recommended Image Sizes
LinkedIn is not only a popular service for personal pages, but also for businesses and brands. When it comes to the latter, using a logo is usually quite important, as it can help consumers and those looking to connect with a business find the business to start with. Due to the focus on personal and company pages, LinkedIn has specific recommendations for each type of profile.
Profile pictures: 400 x 400
Banner images: 1584 x 396
Company logo images: 300 x 300
Company banner images: 1128 x 191
Post image/photo: 264 x 176 (minimum) 900 x 600 (recommended)
According to LinkedIn, while profile photos should be at least 400 (w) x 400 (h) pixels, they should also not exceed 7,680 (w) x 4,320 (h) pixels. Additionally, the maximum image file size that can be uploaded is 8MB. LinkedIn also only supports PNG and JPG file formats, so there is no option to upload a GIF.
YouTube Recommended Image Sizes
YouTube probably needs no introduction given that it is the most widely used video downloading platform on the planet. With so many YouTubers and viewers, having a unique profile is all the more important. Similar to other services, YouTube allows channel owners to upload both a profile picture and a banner picture. Both come with their own minimum size requirements.
Profile pictures: 800 x 800
Banner images: 2048 x 1152 (16:9 aspect ratio)
Although the recommended minimum size for a banner image is 2048 x 1152 pixels, it's worth bearing in mind that YouTube considers 1235 x 338 pixels to be the "safe area" for important details such as a logo. . Therefore, the actual mark should be between 1235 x 338 pixels when using an image that is at least 2048 x 1152 pixels. Additionally, banner images cannot exceed 6MB and larger images will likely be cropped on some devices. With standard profile pictures, YouTube supports JPG, GIF, BMP, or PNG file formats, and the maximum supported file size is 4MB.
Choose the right images
While ensuring that a profile or background image meets the requirements set by different social media services is extremely important, there is also the issue of choosing the right image to start with. While there are some general tips (good lighting, clean background, subject in sight) that apply to any image, the right profile and background image often depends on the individual profile.
If it's a business, brand, or topic profile, it will be important to make sure the logo is easy to see, identifiable, and representative of the page. If it's a personal profile, but designed to be a bit more professional, the profile and background should also be more professional. In short, be it TikTok, Twitter, Facebook, YouTube or any other social media service, choose images that best reflect the purpose of the profile and its target audience.
Next: How to see who viewed your TikTok profile
Source: ICT Tac, Twitter, instagram, LinkedIn
Doctor Strange 2 Trailer Shows Scarlet Witch Trapped By Mirror Dimension
About the Author