Last April, Hamas and the Palestinian Islamic Jihad (PIJ) returned to television and computer screens with dramatic Ramadan programming. In separate multi-part series, the shows aim to drum up support for sanctioned terrorist groups with scenes of daring prison breaks and murders of Israeli citizens.
The series were produced by Al-Aqsa TV (Hamas) and Al Quds Today TV (JIP), and posted on Facebook and YouTube.

These series continue and expand the use of television programs broadcast during the month of Ramadan to promote violence and glorify terrorist tactics against Israel, following the Ramadan 2021 broadcast of the series "Milad Al Fajr("Birth of Dawn") by Al Quds Today TV and PIJ.
To reach a wide range of audiences, terrorism-affiliated media continued to use social media to promote and broadcast episodes of these programs. Social media companies should be careful about using their platforms to disseminate content from sanctioned violent extremist groups and their media outlets.
Gilboa Prison Escape
In a 24-episode series produced by PIJ-affiliated Al-Quds Today TV, "Shara Nasr Gilboa" ("Gilboa Victory Sign") depicts the tunnel escape of six Hamas and PIJ militants from Israeli prison in Gilboa in September 2021. In Several Episodes Seen by Kharon, the series compares the tunnels used for prisoner escape to the underground tunnel networks used by Hamas in Gaza to store weapons, move weapons and militants, and carry out attacks on inside Israeli territory.

Other episodes describe the story of the six prisoners who carried out terrorist attacks on Israeli military convoys and kidnappings of Israeli civilians. In one episode, one of the prisoners – PIJ activist Ayham Nayef Kamamji – who was convicted for the abduction and murder of Israeli citizen Eliyahu Asheri, is depicted abducting and murdering an Israeli citizen.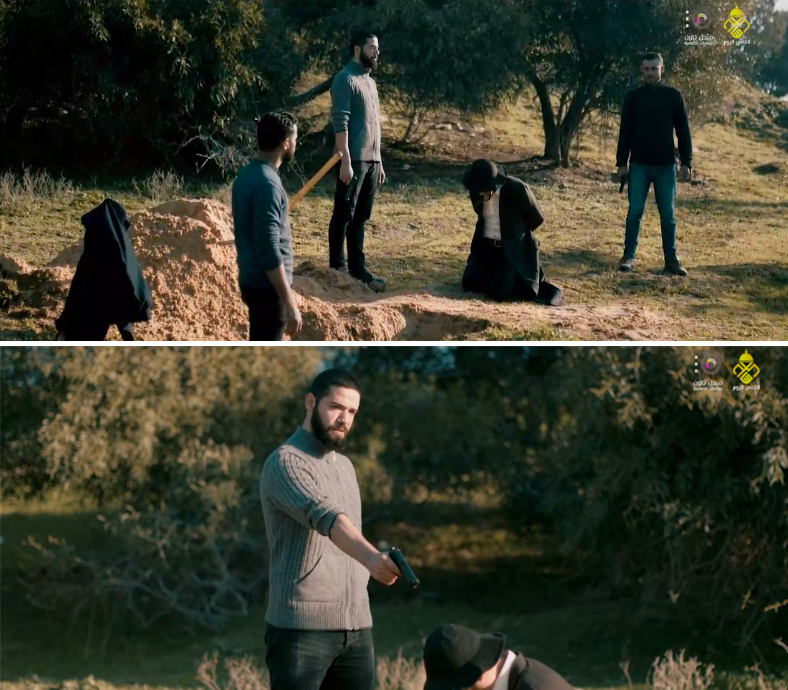 The PIJ was designated in 1997 by the US State Department as a Foreign Terrorist Organization, and the European Union, United Kingdom and Canada have also imposed sanctions on the PIJ since the early 2000s.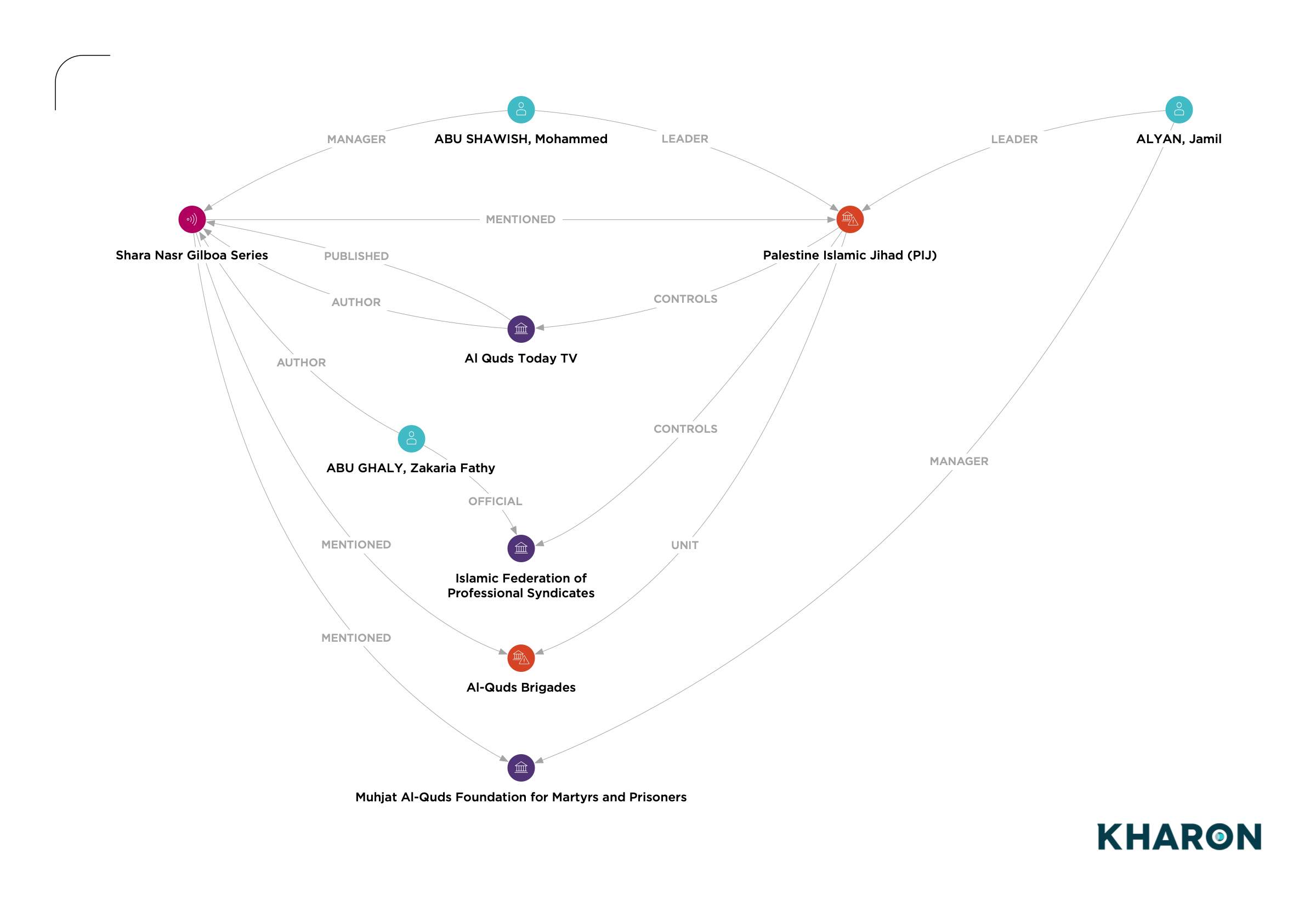 Freedom by "the fist"
"Qabdat Al-Ahrar," or "The Fist of the Free Men," is a 30-episode series broadcast by Hamas and centered on the November 2018 clashes in Gaza between Hamas and Israel. More than the JIP program, the Qabdat al-Ahrar series was a clear attempt to influence popular opinion in favor of the Hamas leadership both in Gaza and abroad. Hamas media promoted the series, stressing "the value of resistance in the face of occupying forces and the role of resistance leaders abroad in supplying the resistance with military and financial resources".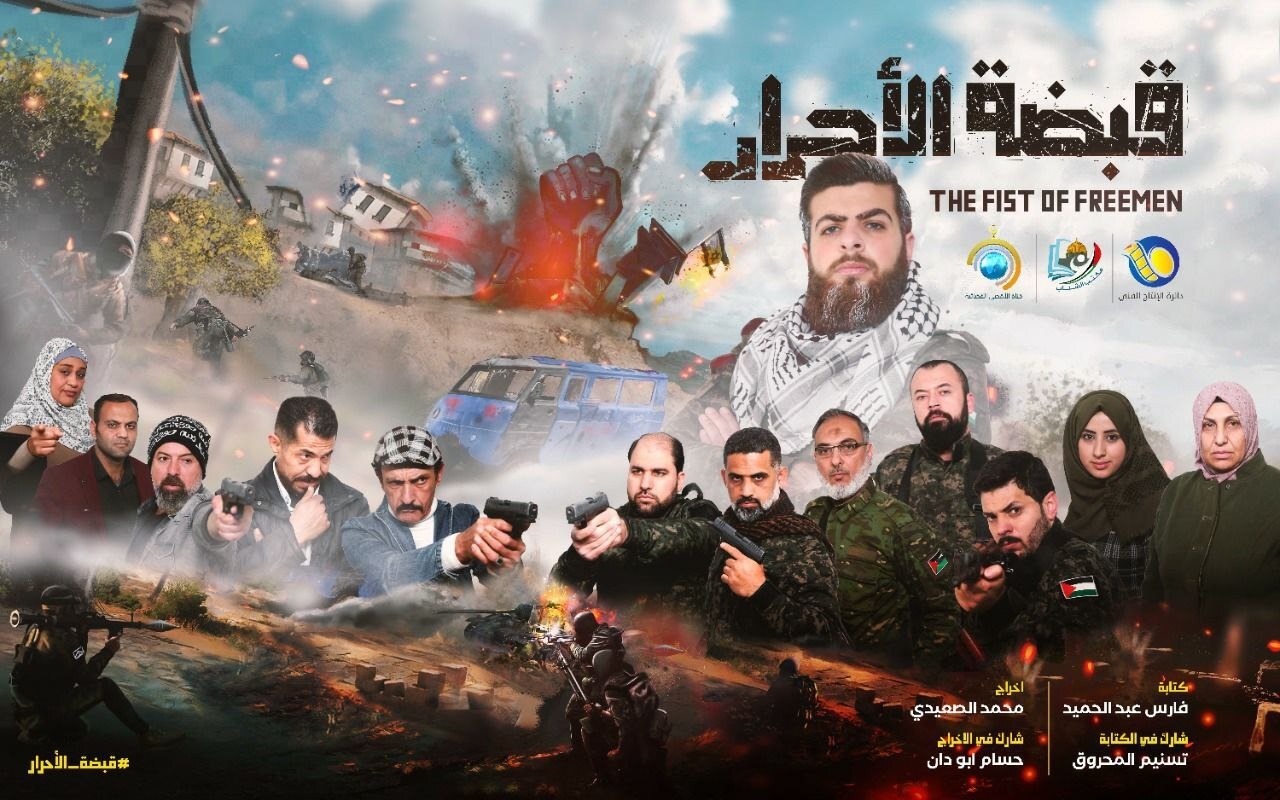 The producer of the series "Qabdat al-Ahrar" is Al-Aqsa TV, a television channel that the United States Department of the Treasury appointed in March 2010 for being financed and controlled by Hamas. The US government condemned Al-Aqsa TV for broadcasting "programs and music videos designed to recruit children to become armed Hamas fighters and suicide bombers when they reach adulthood".
In addition to Al Aqsa TV, the Qabdat Al-Ahrar series was broadcast in Lebanon via Hezbollah-controlled Al Manar TV and other TV channels in Algeria and Jordan, as well as a language channel Arabic in Turkey.
Connect to Facebook, Stream to Youtube
To ensure that fans around the world can watch his series Ramadan, the production company behind the series released entire episodes of "Shara Nasr Gilboa" on its Youtube channel and his Facebook pagewhich remains active as of the date of this publication.
"Qabdat Al-Ahrar" has not been officially distributed on social media by the production companies, but followers of the series have posted entire episodes on personal social media accounts.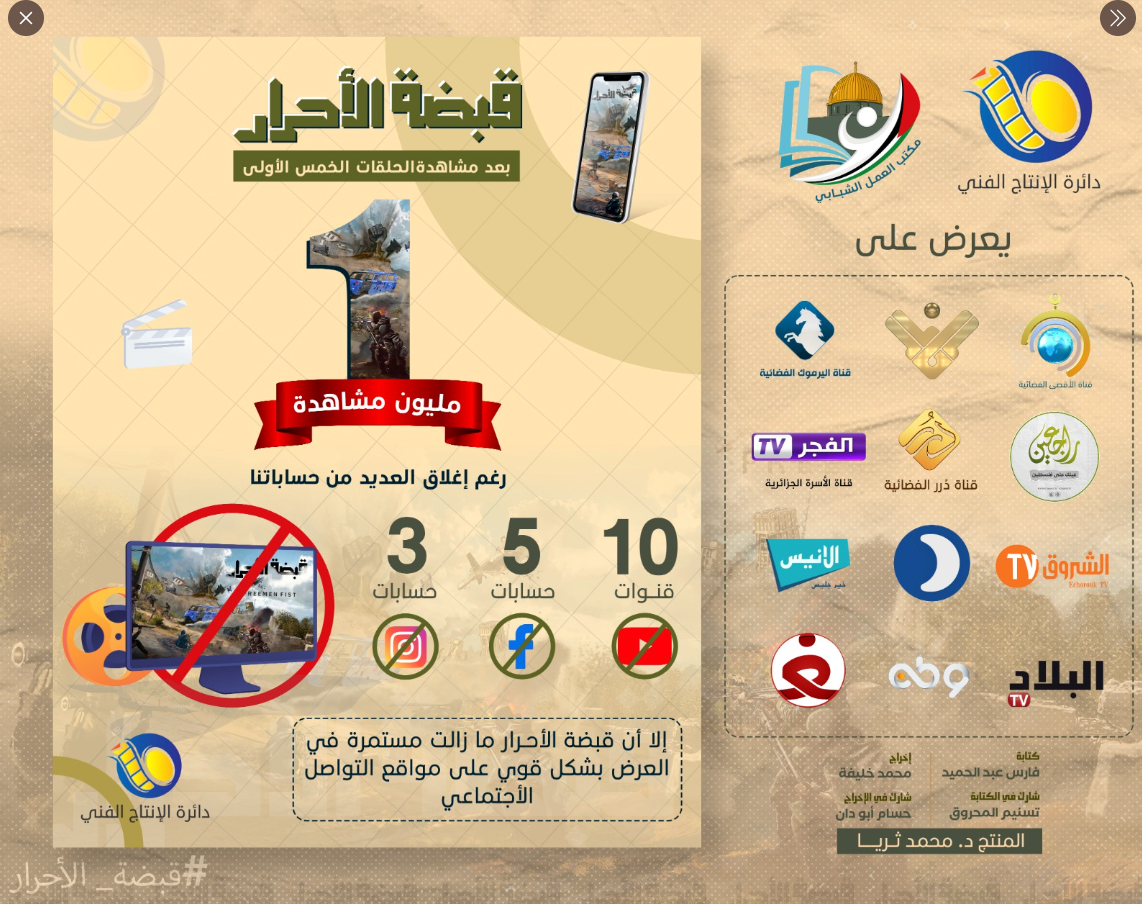 TikTok music video posts "Shara Nasr Gilboa" and "Qabdat Al-Ahrar" were numerous.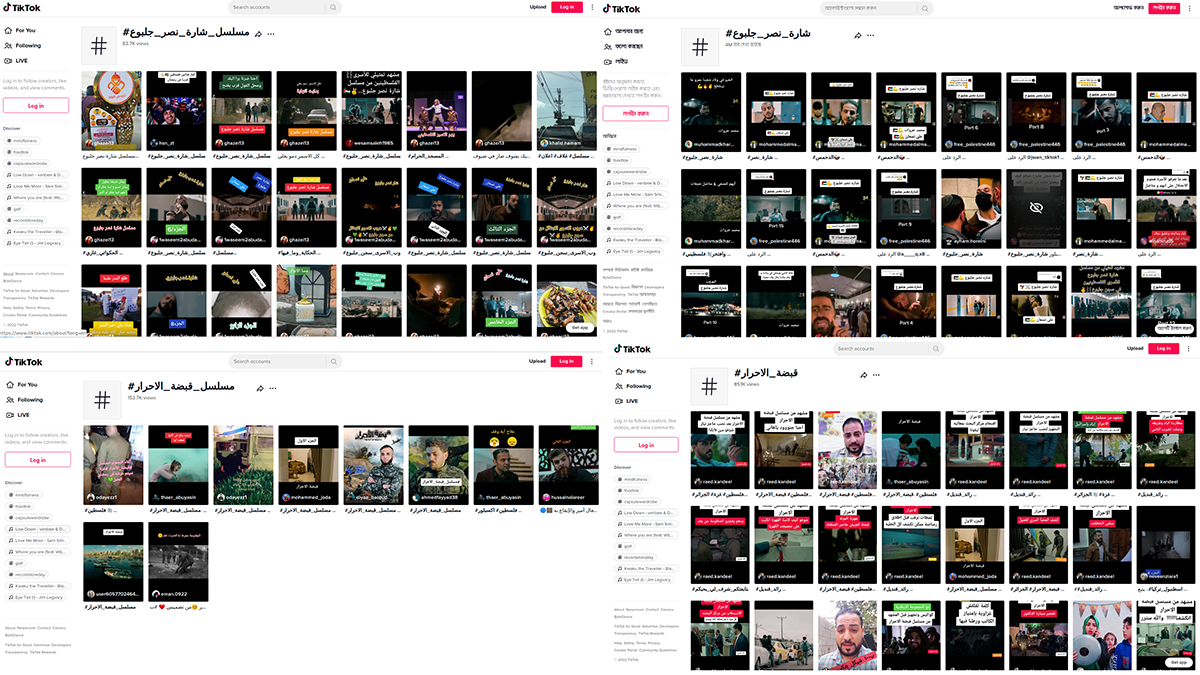 Social media platforms should be alert to possible violations of their policies against violent extremist content when posting such programs, and the need for continued vigilance to find and block such content. YouTube has removed an episode of "Shara Nasr Gilboa", based on media reports and a video placeholder by Middle Town Media.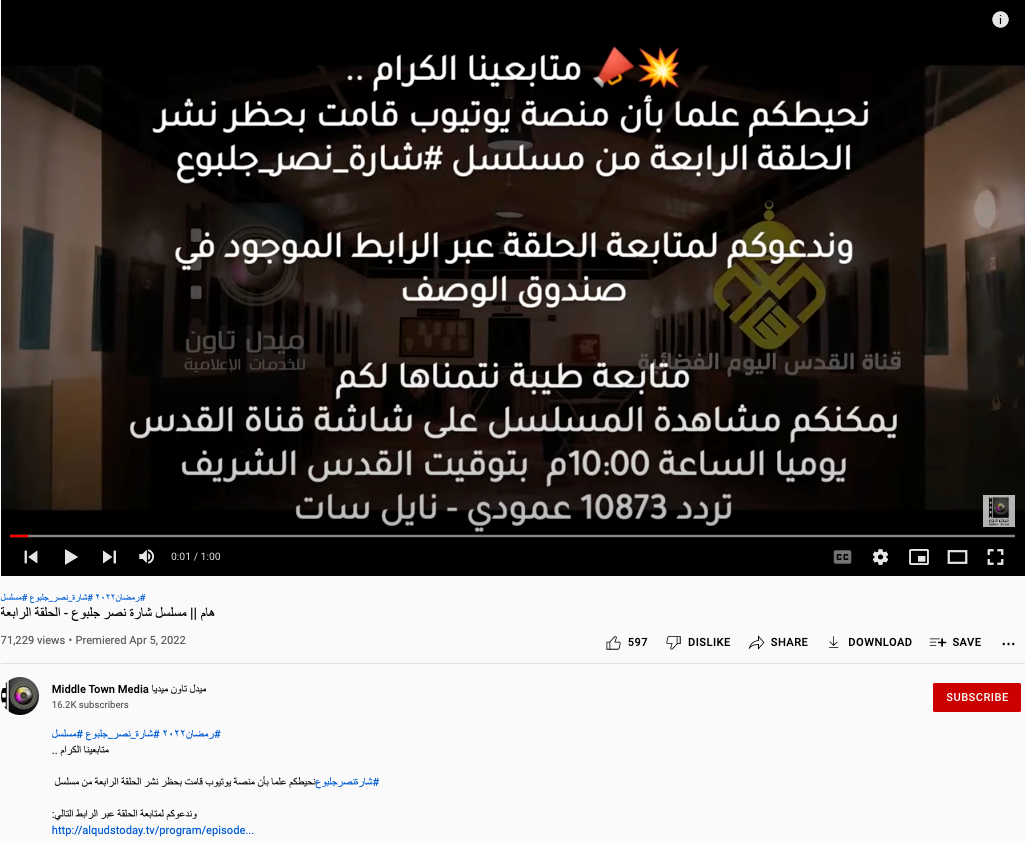 Episode 4 featured the execution of an Israeli civilian and YouTube blocked the episode on Middle Town Media's channel. However, Middle Town Media announced in their placeholder video that viewers could access the episode via an alternative link to an external website, demonstrating the risk that violent extremist content could be reposted or moved outside of the platform while using the platform for advertising purposes.