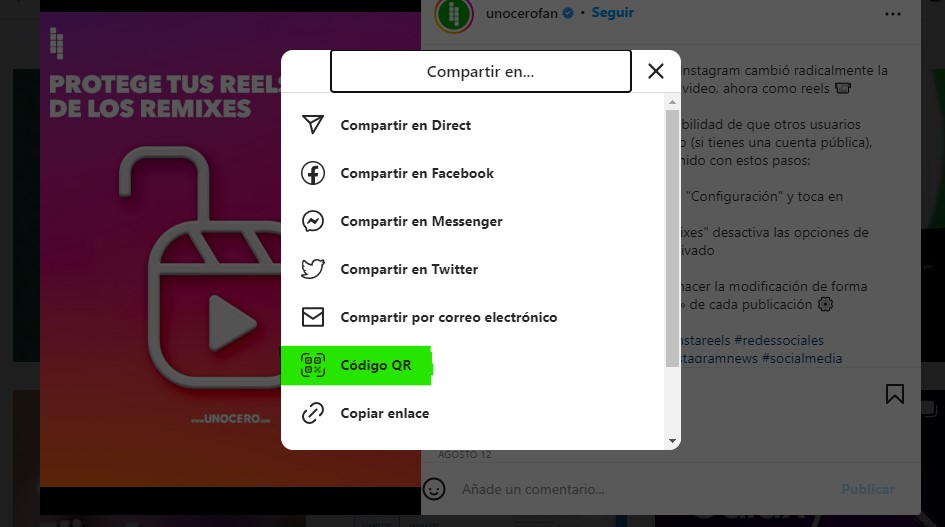 Instagram already allows you to share posts and Reels via a QR code: We tell you how to do it
Instagram knows that to stand up to rising platforms like TikTok, it's not enough to provide "inspired features" from other services. You need to ensure that content generated to and from your service reaches every corner of the web.
That is why in recent months Meta, its parent company, has launched various possibilities to give greater visibility to all kinds of content, where Reels has a special place.
To these efforts must now be added another which concerns the ability to share posts, reels and locations from anyone via a QR code.
This possibility would have already been disclosed by Alessandro Paluzzi who, some time ago, would have shared a first screenshot of this feature which now seems to affect all Instagram users.
#Instagram working on the ability to share posts using a QR code 👀 pic.twitter.com/2RIaCW6ows

– Alessandro Paluzzi (@alex193a) March 27, 2022
It is important to mention that this is not the first time that Instagram has opted for QR codes to give greater visibility to its platform.
For four years, he has put on the table the possibility of sharing profiles via QR codes; however, the new option would be the first effort to use these codes to share individual posts.
In fact, this was confirmed to TechCrunch by a Meta spokesperson who stated:
"To make it easier for individuals and businesses to share specific content, we recently launched the ability to create QR codes for profiles, tags, locations, reels, and more."
The process of sharing Instagram's own as well as third-party reels, posts and locations using a QR code is simple. Just follow these steps from the web version and from the available mobile apps:
Enter Instagram and identify the content you want to share using a QR code
Click on the content and select the three dots located at the top right to open the menu
From there, you need to choose the "Share to" option and from the new drop-down menu, select "QR Code"
Thus, the QR code will be generated automatically with options to customize its color. Once this value has been adjusted, click on download to share the information.